Multichannel retail - IRX 2013 - get your early bird exhibitor rates now!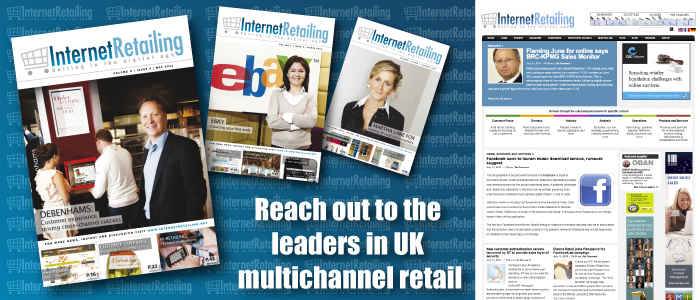 IRX 2013 – last chance to take advantage of early bird exhibitor rates
Taking place on 21st & 22nd March at the Birmingham NEC, IRX will showcase the leading suppliers to the online and multichannel retail sector.
Latest exhibitors include:
Adestra, Ampliance, Annica, Avail Intelligence, BISL, Borderlinx, Bray Solutions, Bronto, Bubbles, Celebros, Certona, Channel Advisor, City Sprint, Clicktale, Colony Commerce, Credit Call, Crimson Wing, Diamond Pack, DHL, Easypak, Emailcenter, EME Digital, Etail Systems, Fastway, Feefo, Fact Finder, ITB, Kabbage, Keystone Sofware, Kite Packaging, Kount, Liquid Shop, Liveperson, Mainline Flatpack, Metapack, Nanorep, NCR, New Voice Media, Ogone, Owned It, Panotec, Peerius, PayPal, Priam Software, Prism, Pure 360, Red Rocket, Rich Relevance, SagePay, Sanderson, Searchlabs, Seller Express, Shutl, SLI Systems, Strategy Internet Marketing, Wirecard and WorldPay
With an estimated 5,000 visitors and more than 150 exhibitors, IRX will be the UK's largest exhibition and conference for the online retail sector.
The early bird pricing is only available until the 6th December so act now to take advantage of the special low rates.
Earlybird rates:
Shell scheme £395 per sqm
Space only - £375 per sqm
Rates from 7th December onwards:
Shell scheme - £495 per sqm
Space only - £475 per sqm
To take advantage of the early bird rates please contact the sales team as soon as possible on 020 7933 8999.
For more information about the exhibitor and sponsorship opportunities available please contact me as below for a media pack.
Kind regards
Andy James
020 7933 8999
andy.james@internetretailing.net
www.internetretailingexpo.com